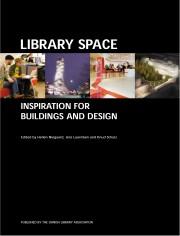 Danmarks Biblioteksforening (the Danish Library Association) has translated the successful book "Biblioteksrummet – inspiration til bygning og indretning" to a English edition "The library room – inspiration for buildings and design".
The book is intended to inspire to new thinking on architecture and city planning, to give some inspiring input on quality, flexibility and creative courage.
With LIBRARY SPACE the Danish Library Association wants to stimulate a rethinking of library layout and construction. To encourage library 'owners' to work for new library buildings of high quality, flexibility and creativity - as well as to have the courage to seek new directions in design, architecture and urban location. And furthermore, to position the public library as a visible and powerful asset of the 21st century knowledge society.
The book contains a long range of articles from a variety of library leaders, architects and advisors involved in library planning. The articles have themes like: World class library buildings, Libraries in transition, Children and libraries and The process and citizens' participation. The chapter on tools and standards will be an indispensable element for any contractor. Many newly established libraries are represented in text and illustrations.
The main focus is on Nordic library buildings but there are a few American examples. The book is richly illustrated with color pictures, blue prints and visualizations of architectural drawings.
There is a list of interesting libraries in Denmark and Southern Sweden build or re-build since 1977.
Library space : inspiration for building and design
Edited by Hellen Niegaard, Jens Lauridsen and Knud Schulz.
Copenhagen : Danmarks Biblioteksforening, 2009. - 156 pages.
ISBN-13: 978-87-90849-55-9