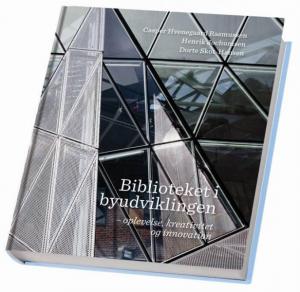 The book "Biblioteket i byudviklingen – oplevelse, kreativitet og innovation" (Eng.: The library in urban development – experience, creativity and innovation) brings into focus the correlation between library development and urban development. It is written on the basis of a research project conducted at Centre for Cultural Policy Studies, The Royal School of Library and Information Science. In connection with the project the researchers studied cutting-edge libraries in the Nordic Countries, Europe and North America. The book is aimed particularly at architects, cultural and urban planners, library people and others who wish to participate in the discussion about how libraries can fortify urban potentials in terms of experience, creativity and innovation.
Although the public libraries are under economic pressure at the present time, exciting new thinking is emerging. There is a growing interest internationally in using the library as a dynamic factor in urban development. You might even say that the physical library is experiencing a renaissance. Based on cutting-edge examples the book shows how libraries act as a motivating force in urban development. For example Rem Koolhaas' remarkable library in Seattle, which has become an icon for the city at the same time as its gigantic Living Room has created an attractive, public meeting place. In Amsterdam the new Openbaare Bibliothek with its more than 6,000 visitors a day acts as a placemaker in the new Oesterdok district. In Elsinore the new main library is part of a hybrid cultural arena, which together with other cultural offers, contributes to revitalising the former industrial harbour.
All these libraries and a large number of others introduced in the book can be seen as motivating forces in urban development.
Casper Hvenegaard Rasmussen, Henrik Jochumsen and Dorte Skot-Hansen:
Biblioteket i byudviklingen – oplevelse, kreativitet og innovation
Danmarks Biblioteksforenings Forlag, 2011. The book can be bought at www.db.dk
This article is a reprint from Scandinavian Public Library Quarterly