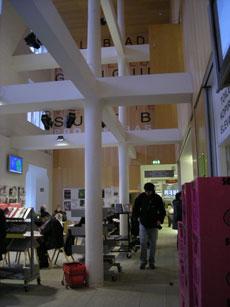 At the BOBCATSSS symposium held in Portugal in January 2009 a paper was presented to shed some light on the libraries' position in today's society. The paper presented by Henrik Jochumsen and Casper Hvenegaard Rasmussen states that, the physical libraries may have had some adversity in later years but that the function of the library is on the brink of change.
The author's view is that the uncertainty for the future of the public library as a place which characterized the 1990's today is replaced by a new belief in the importance of the physical library. This belief is not only strong among librarians but also among scholars, politicians and city-planners. The paper introduces this renewed interest in the physical library, emphasizes new trends in library-development and finally pinpoints an essential challenge when new libraries are being planned or built.
Read the article and gain new insight on the future challenges and possibilities. The article points to cautious optimism for the future of library buildings in society. The physical library has a bright future as a space for experience and as a meeting place.
Casper Hvenegaard Rasmussen and Henrik Jochumsen
The Fall and Rise of the Physical Library. 2008.
In 17th annual BOBCATSSS symposium (Bobcatsss 2009), Porto (Portugal), 28-30 January 2009. (Unpublished) [Conference Paper]
---
On the BOBCATSSS conference in Portugal:
BOBCATSSS 2009: Challenges for the New Information Professional